Basil is the name of my aunty's labradoodle who came to stay with us last month while she was on holiday. I've always wanted a dog, so having Basil visit was really exciting and safe to say, I loved it.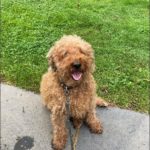 It was the first time Basil had stayed at our house, and I planned a whole itinerary of walks and nice places to take him. The local park, a reservoir, and (most importantly) a golf course in our county that allows dogs to walk the fairways!
Basil is an incredibly sweet dog and so well behaved. He loves being cuddled and was an absolute joy to have around the house. There was nothing better than waking up in the morning and seeing his little face and wagging tail looking up at you from the bottom of the stairs. I couldn't wait to get up each day! The mere mention of breakfast was enough to cause excitement, as was the suggestion of "walkies" which sent him racing to get his lead.
I loved letting Basil out in the garden first thing in the morning. Breathing in the fresh air, taking in the sunshine, and watching the birds at a time when I'd usually be sat inside at the breakfast table.
I loved taking him out on a morning walk, trotting round the village, and stopping to chat with fellow dog walkers. It was like being part of a new community. After a few days you began to see recognisable faces, fellow dog owners doing their usual morning loop. After 22 years of living in the same village, we discovered a new walk through a recently planted woodland. How we'd never found it before, I don't know – but having a dog gave us a new perspective on a place we'd lived in for over two decades. Finding new routes and walking round each morning made us see the village through fresh eyes.
I loved arriving back at the house and flopping down on the sofa together. Basil next to me while I read a book or listened to a podcast. He'd follow me round if I left the room, a little helper as I went about the house, and I loved nothing more than the sound of his little paws trotting quietly behind me.
Basil was a very calming presence and it got me thinking about the positive impact pets can have on our health and wellbeing.
I exercised more than I usually would and spent more time outside in the fresh air. I felt very relaxed giving him 24/7 strokes and cuddles. Basil made me laugh when he'd trot round carrying his lead or when he'd get excited if one of us arrived home. He was such a sweet companion, sitting at our feet in the kitchen and when we took him out for lunch at pub gardens with friends.
And Basil brought out the best in people. Passers-by would stop and say hello when they'd ordinarily just walk on by. He was a bundle of happiness and joy, and he brought that out in those around him too.
Of course, it's important to acknowledge that it's not always feasible or practical to have a pet. Dogs need care and attention, and it's unfair to leave them alone if you work and would be out of the house for hours on end. Similarly, animals cost money for food, veterinary care, and general upkeep, so getting a pet cannot be done lightly.
However, to gain a better insight into the positive impact a pet can have on our health and wellbeing, I asked my aunty, who's a vet, for her verdict on the subject:
"As a vet, I have personally owned and loved many pets over the years and have professionally dealt with many clients who confirmed to me the sense of wellbeing gained from pet ownership. It is well known that pets, especially dogs, offer unconditional love and companionship to their owners. Several elderly clients would tell me how their pets were the reason they got out of bed in the mornings because their dog needed to be fed and walked. Dogs are a great way to increase your exercise because they need a daily walk, which is also a fantastic way to meet new people because dog owners generally stop and chat to one another. Having a pet which depends on you for its care and wellbeing will in turn elevate the owner's own sense of wellbeing. It is always good to feel needed and loved.
Dogs are now being used to help with autistic children as it has been found they decrease anxiety levels in children and reduce stress in social environments. This leads to a more socially inclusive life for these children and their parents. Similarly, there are now psychiatric assistance dogs which have been seen to help with several disorders including Post Traumatic Stress Disorder, Bipolar Disease, Major Depression, and Autistic Spectrum Disorders. Again they decrease anxiety and increase a sense of wellbeing. It is not just dogs which are known to help with mental health issues. Stroking alpacas has been seen to decrease anxiety in university students prior to exams. At my own sons' school, the headmistress bought a dog which she brought into school every day. The pupils were allowed to take Lily out for a walk if they were feeling stressed or anxious, but I suspect some just liked taking her for a walk anyway!
Another way of reducing stress levels in hospitals and doctors/dental waiting rooms is by the presence of fish tanks. The tanks have been shown to have positive mood changes on patients. They resulted in reduced heart rate and decreased blood pressure. This leads to increased serotonin production in the brain and decreased levels of stress hormones. This leads to decreased anxiety in a clinical setting which can only help with patients' wellbeing. Interestingly, it has also been shown that patients suffering from Alzheimer's Disease, if they watch colourful fish in a fish tank, become much calmer and less physically aggressive and it also improved their eating.  Hence it can be seen the multiple benefits on mental health and wellbeing of pet ownership. Personally I can highly recommend having a pet for a companion, with the added benefit that a cuddly dog on your knee will reduce heating costs!!"
Given MPN patients face difficult diagnoses of living with a chronic disease and coping with myriad symptoms, these valuable findings about the positive impact animals can have on other health conditions are likely to be of interest and relevance to our community. Four fellow MPN patients who have kindly shared their personal stories of dog ownership with me are Debbie, Charlie, Louise, and Maz.
Debbie:
"I have a beautiful Red Fox Labrador called Rex. We went to see a very special litter of puppies when they were a just a few weeks old and this cheeky chap chose us! He kept coming to play and sitting with us, so it really felt meant to be. I had been quite poorly and was undergoing tests at the time, I did not know what lay ahead! He came to his forever home with us the same month I received my diagnosis.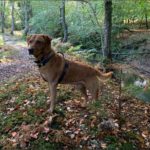 Apart from the very welcome distraction, taking care of him in the best ways possible has been very therapeutic. We are very lucky to live in the New Forest and there are many very beautiful paths and woods to explore and enjoy. As an MPN patient, fatigue has been a real battle at times. Walking daily in the fresh air enjoying the wonderful countryside has really helped me. I was advised to do gentle walking when fatigued, even if in reality it is the last thing you feel like. It's true, mostly I will feel much better for it. I rarely miss a day, and my walks have often turned a difficult day around.
Following Covid, I now work from home and he has become "my shadow and constant companion". I believe he was heaven sent and I would recommend to anyone thinking of getting a dog, DO IT! You will have a loyal friend who will walk your life journey by your side, giving you much joy".
Charlie:
"I feel very fortunate to have two young cocker spaniels, whom I adore! We'd only had the first one for a few weeks before I started having symptoms and was diagnosed with ET. I think he definitely picked up on the stress I was under at the time – he's a sensitive soul and we bonded very closely.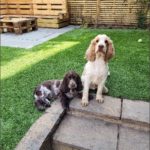 The pair of them have brought endless joy and comfort into our home, and they somehow know what I need when I'm having a tough day, whether it's down-time and snuggles on the sofa, or something to energise me in which case the youngest will bring toys and balls to play fetch with me for HOURS. Having them also forces me to get outside and go for lovely long walks when, if I didn't have the dogs and was having a bad day, I wouldn't go.
They're my best pals and provide unconditional love and unspoken support, and having them to come home to every day is the best welcome I could ever ask for. I'd be utterly lost without them!"
Louise:
"We've had dogs in our family for as long as I can remember. I'm 68. My mother was a stay at home mum so it was easy to accommodate them – we've never believed in homing a dog and leaving it at home on its own. That to us is simply cruel and unthinkable – dogs are pack animals and need company.
When I was diagnosed with PV 14 years ago, our little dog Becky (in those days) was my little pal, my walking companion and my comfort in the dark days of early diagnosis. When Becky died, we decided we wouldn't have another dog – have no doubt – they are tying, expensive if cared for properly, and they break your heart when they die. However, our poochless home didn't stay poochless for long!
We missed the undemanding priceless love a dog can give, we missed having a dog to walk with (I found myself hardly walking at all and we PVers need exercise!) and we missed the sheer calming and joyous companionship that only a well-loved and loving dog can give. It's balm to the soul and the best medicine money can buy.
P.S. If you would really like the company of a dog occasionally but don't have the lifestyle to look after one full time, check out "Borrow My Doggy".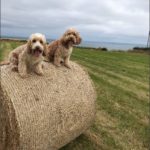 Maz:
"Having a dog has had a huge impact on me, both in terms of my mental and physical wellbeing.  I am fundamentally a very lazy person, the thought of going to the gym or running makes me shiver, and I know that I wouldn't enjoy it, so what would be the point?  But I do enjoy walking, anywhere, in the woods, on a beach, in a park, and it's so much more fun having my dog Bart with me on my walks. No matter what the weather is like or how I am feeling, Bart needs to go out, though he can be grumpy when it's raining, so 3 times a day out we both go.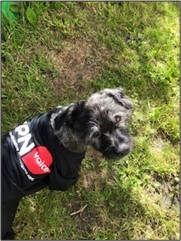 And it's such a joy when we are out, being in the fresh air and seeing the changes each season brings, sometimes meeting our friends and stopping for a chat with mine whilst Bart has a run around with his.  And on the days when my ET fatigue hits me and I don't feel like doing anything, I know that going for a walk will help and Bart needs to go out, and he seems to sense that I am not feeling so good, and he is quite content when I say 'we will only go to the gate at the end of the footpath then come home' but when I get to the gate, and stop and look at the view over Dartmoor, I feel better and we then go down the field and stop again, and when we get home I feel much better, not quite so fatigued and my head feels much clearer and I feel more energized and alert, so definitely well worth the effort.
I can't help but smile when I look into Bart's eyes and get a cold wet nose pressed against my cheek and see his tail wagging so much it could almost fall off when I talk to him".
*
Huge thanks to my aunty, Debbie, Charlie, Louise and Maz for taking the time to share their thoughts and stories with us for this month's blog.
Since Basil's left, our house feels very empty. I'm really grateful to my aunty for asking us to look after him and his holiday with us confirmed what I always knew: that there's nothing better than a four legged companion and I'll definitely be getting one in the future.
*
If you'd like to get in touch with Alice about this topic or any of her blog posts to date, you can contact her by email at: info@mpnvoice.org.uk